Star2Star's unique Blended Architecture combines an on-premise PBX system with a suite of hosted services to create a complete, feature-rich communications system. But one of our most important features is the high quality of the telephone calls.
Our StarBox on-premise PBX is one of the keys to our exceptional call quality. The StarBox connects to the Internet and to the office LAN, and it manages all of the VoIP traffic between the local LAN and the Internet. This allows the StarBox to add Quality of Service (QoS) information to Internet traffic so that time-sensitive voice traffic gets priority over data traffic. The StarBox accomplishes this without requiring any modifications to, or reconfiguration of, the existing LAN or Internet connection. The end result is clearer, more intelligible calls with no distortion or delay.
An exceptional phone system requires an exceptional network. The Star2Star Constellation Network co-locates Star2Star services with Level (3) PSTN gateways to provide excellent call quality by virtually eliminating latency and enabling the most efficient handling of the audio traffic. The Constellation Network also provides centralized management of network and voice services in our Atlanta and San Jose datacenters. Constellation allows Star2Star users to place call with extremely low latency times, which results in higher audio quality with virtually no delay.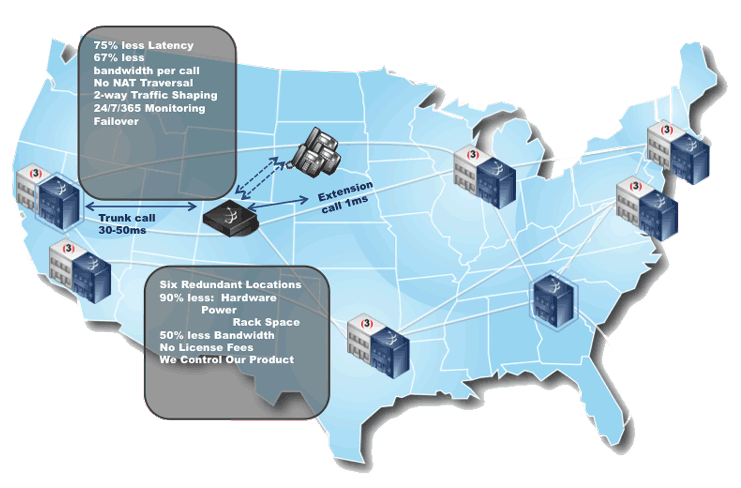 Our commitment to quality is most evident in our 30-day money back guarantee: Operate the Star2Star system side-by-side your existing traditional phone system and experience the powerful features and superior call quality. Then consider the savings. If you don't like it, we will take it back, no charge to you.
We can make this guarantee with confidence. Our customer retention rate is 99.6%, and we have tens of thousands of happy users. For a real-world example of Star2Star's quality, read the customer success story about Select Care Benefits Network.