Star2Star's Blended Architecture puts resources where they make the most sense.
Our complete solution includes all of the on-premise equipment, including the StarBox PBX, Star2Star Special Edition telephones, a Star2Star-certified Ethernet switch, and a backup power supply. In many cases, your Star2Star telephone system utilize the same CAT5 wiring that you already have in place for your computer network. This "single cable" installation simplifies wiring and saves money. We use VLAN technology to keep voice and data separated on two different "Virtual LANs" that share the same physical wiring.
The diagram below shows the essential components of a typical Star2Star phone system: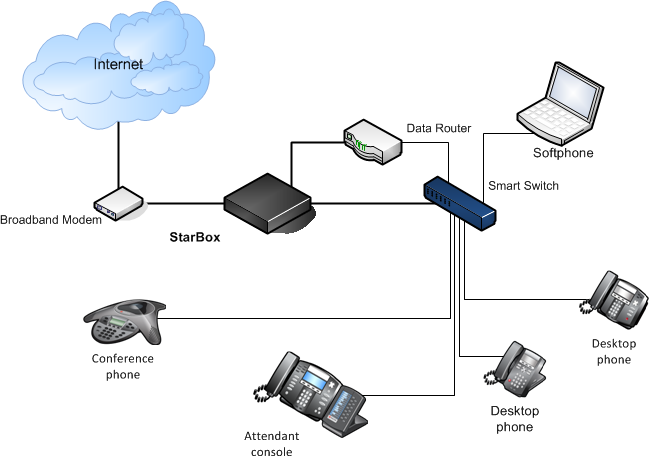 The Star2Star solution places services in the cloud when it makes sense to do so, but the most important part of the system – the part that routes calls and handles the voice traffic – remains on the customer premise. This on-premise component is the key that allows Star2Star to provide full-featured telephone service with "best in class" reliability and call quality.
Star2Star telephone systems are only sold as a complete solution, and they are always installed by a factory-certified installer. When you order a Star2Star system, you can be sure that all of the pieces will work together seamlessly.
All Star2Star systems are pre-configured at Star2Star headquarters before they are shipped to the installing dealer. The reduces installation time and eliminates configuration errors. Once the system is installed, your dealer or a designated system administrator can make configuration changes using the web-based administration console.